Amazing Futures Brighton & Hove – summer fun, new staff and autumn highlights
We had a busy summer at the Brighton & Hove Amazing Futures project!  We met up in Queen's Park, Hove Park and Preston Park on Tuesday, Wednesday and Thursday afternoons and played football, Frisbee, volleyball, rounders, boules, table tennis and bat and ball. It was great to have some new young people join us, as we were able to increase numbers because we were outside.
We would like to thank all the young people involved in helping to recruit a new Young People's Worker, Pagane Gacheva, who started work as the new paid intern with Amazing Futures. Pagane has been a volunteer Peer Supporter since December 2019. She co-facilitates our monthly drama sessions, she is part of the Amazine group and contributes to our young people's voice work, so she really knows about Amazing Futures and how it works.  Pagane has lots of ideas and is very enthusiastic and committed to developing the project with and for young people.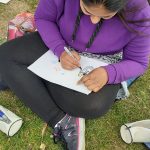 Amazing Futures is very excited to have joined up with Mymarc Community Interest Company, that provides art workshops for young people aged 16-25 with SEND.  Alice Miller, who is a volunteer for Amazing Futures, has taken over the directorship of Mymarc.  She and a few other Amazing Futures volunteers ran an art project over the summer where eight young people designed and painted boards to go around a construction site in Albion Street, Portslade.  They will be put up soon, so do go and have a look at the fabulous artwork the young people have created.
What's coming up in the Autumn with Brighton & Hove Amazing Futures?
We'll be running new volunteer peer supporter training over four Tuesdays in the early evening. The dates for the training course are 5, 12, 26 October and 2 November 4.30 to 6.30pm.  Any young person over 18 who would like to join our fabulous team of volunteer peer supporters, is very welcome to take part.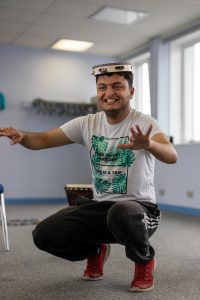 Amazonas Arts, who ran a free 12-week Capoiera sessions for Amazing Futures in the spring, are keen to run more sessions for young people.  We will be advertising them as soon as we've finalised the dates.
Durgha, the yoga teacher from Mindful Warriors, who ran the free zoom yoga sessions for Amazing Futures has got more funding to offer yoga sessions in person in the autumn. We'll let you know the dates soon
Download a list of all our Amazing Futures Brighton & Hove autumn/winter activities.
Finally, we're delighted that Jade Franks, Brighton & Hove's last young people's intern, is continuing to do some work for Amazing Futures, on the Hangleton and Knoll Club for SEND Young People, in partnership with the Hangleton and Knoll Project and Extratime.  Meanwhile Amazing Futures Peer Supporter, Jem Hadert, has started a short-term pain internship to lead on our young people's voice group.  You can read more about what Jem and our young people have said they'd like to see happen and the work they'll be doing in the autumn.

Any young person aged 14-25, living or at school or college in Brighton & Hove, is very welcome to join Amazing Futures. Please contact sue@amazesussex.org.uk or call or text Sue on 07483 111648.