New Parent Carer Forum in East Sussex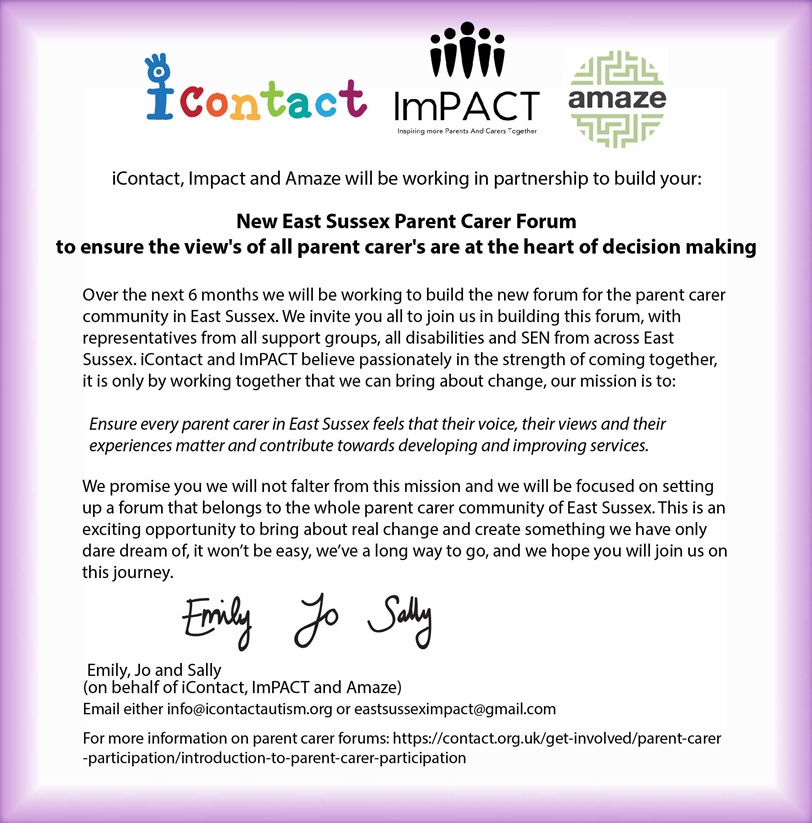 We are pleased to announce a new parent carer forum is being set up in East Sussex. Parent support groups iContact and ImPACT have been awarded a 3-year contract by East Sussex County Council (ESCC) and Clinical Commissioning Group (CCG) to develop a forum which effectively represents the views and needs of families with children and young people with SEND in East Sussex, with the end goal of improving services.  Amaze has been contracted to provide strategic and back office support to the new forum, allowing group members to focus on engaging families, hearing and representing their pressing issues to senior managers within ISEND, the NHS and other service providers.
Committee members from iContact and ImPACT will form an interim steering group and invite other parent support groups and parent carers to join alongside them to build the forum. They will reach out to create a membership of parents and carers with children and young people with additional needs living in East Sussex between the ages of 0-25, including representatives from particularly isolated or marginalised groups of the community.
The parent carer forum will work collaboratively with professionals across education, health and social care services to highlight concerns, showcase good practice and suggest how services can be improved if they are designed and delivered in co-production with parents and carers.  This follows on the back of the recommendations outlined in the Amaze report into Parent Participation 2017.
To find out more and get involved in the new parent carer forum, please email either:
info@icontactautism.org or eastsusseximpact@gmail.com where your details will be kept securely.