Easter Holiday play schemes and activities 2021
With the Easter holidays almost upon us, parent carers' thoughts will no doubt be turning their attention to childcare, play schemes and activity options. To help out we've brought together links and information on inclusive clubs in Brighton & Hove and East Sussex here:
B
righton and 
H
ove
:
Brighton Table Tennis Club is running a free Easter activity camp at Moulsecomb Primary School for children and young people aged 6 to 18 who have SEND or receive free school meals. The camp is in conjunction with other local clubs, so will include forest school activities, martial arts and more. The sessions run 12 – 16 April, 10am to 3.30pm. See their website to find out more and register.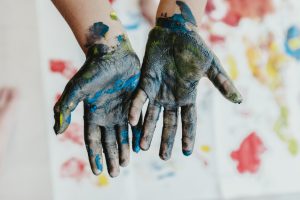 Sew Fabulous is offering an Easter holiday club for ages 7 to 16, which is free to low income families and includes a lunch. The morning sessions will be open to children aged 7+ and the afternoons will be for children aged 11+, with activities such as creating mood boards, local art trips and sewing (of course!).  
Brighton and Hove Holiday Activity and Food (HAF), have released Easter listings which you can view here.  This includes schemes that will offer some families who are eligible for free school meals, free activities and food over the Easter holidays.
And don't forget to use your Compass Card to get leisure discounts across the region. Many of our partners and offers have been unavailable during lockdown, but with things starting to open up, our Compass team has produced a handy guide to easing out of lockdown that includes reminders about suitable activities.
E
ast 
S
ussex
:
Defiant Sports has an Easter Break activity offer aimed at young people with SEND, but spaces are limited. Sessions are 12 to 4pm, 5 to 8 April and 12 to 15 April and are free to families receiving free school meals. There are coached sports and a packed lunch provided. Learn more on the Defiant Sports facebook page. 
The East Sussex Community Information Service provides a pretty comprehensive list of leisure options, many of which will be inclusive.
Or you can search specifically for leisure options relating to disability.
It's also worth checking out the usual short breaks offer in East Sussex.
And a little bit further afield (in West Sussex), Arundel Castle Cricket Foundation is providing a free Easter holiday multi-sports camp between 12-16 April for families of children and young people with SEND. Families can book their own zone within the beautiful outdoor setting of Arundel Castle Cricket Ground with allocated parking next to their zone.  Sports equipment is provided and families can play and relax in their own private, safe outdoor space with the option to book one of our qualified, DBS checked coaches to run a free multi-sports activity for their group. All ages are welcome, and you can find more info on their website. Book a session by emailing richard@arundelcastlecricket.co.uk
Amazing Futures
Whilst our Amazing Futures peer support and activity groups for 14-25s with SEND in Brighton & Hove and East Sussex unfortunately aren't able to offer activities this Easter, as lockdown restrictions ease, we are moving back to meeting in person in small groups. Find out the latest on our
Amazing Futures activity groups.