Compass e-newsletters get a new look
Following feedback from our survey this autumn, we're launching our revamped e-newsletters today!
The Compass Team asked families and young people who get our weekly e-newsletters, 'Compass News West Sussex' and 'Compass News B&H', to let us know what they liked and what they didn't like about the newsletters via a quick survey.
We got a brilliant 76 responses – 35 from West Sussex, 41 from Brighton and Hove – and we were delighted that the majority of people were happy with the e-newsletters.
Almost 87% were happy with the frequency and when asked if there was anything that put them off reading them, almost 62% said everything was ok. And most people found the things we include in the e-newsletters 'very interesting' or 'quite interesting'.
What's changing
You came up with lots of suggestions about things we could do to make the newsletters better. Here are the main issues you brought up, and the changes we're making in response:
Could we have information that relates more directly to our own family – particularly in relation to where we live and the age of our Compass Card holder?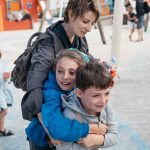 Sadly, we don't have the time to produce a range of different e-newsletters targeted at location and age range, but hopefully some of the changes we've made will help you to find the information that's of interest to you more quickly.  We're putting a 'contents list' at the top of the e-newsletters so you can see everything's that's included that week at a glance.  Headings will also start with age and location information whenever possible. So for example, you'll see headings that begin with 'All ages | Crawley' or 'Parents of 0 to 5s | Brighton'. The contents list and the news pieces are numbered, so you should easily be able to find the content you're interested in if you want to know more.
We'd like some pictures
We've jazzed up our banner heading to include images and we've set up our e-newsletter template so we can include regular images.
The e-newsletter could be less wordy
We're tightening up the copy and providing web links if you want to find out more.
We'd like a calendar on the Compass Card website so we can easily see what's coming up and when.
A great idea! It will depend on funding, but we're looking into it.