Colour Matching really is catching
We're delighted to report that our brilliant new Colour Matching is Catching coffee table book is selling like hot cakes – so much so that we've ordered another batch in time for all your Christmas stockings – so please order one and help support Amaze this Christmas.
The book is hard backed, 230 by 180mm, has 60 colourful pages and costs just £12.99.
'Colour Matching is Catching' features residents of Brighton's Hanover district colour-matched to their home, their cars and each other. It's a brilliantly witty celebration of Brighton's creativity and quirkiness and all proceeds from the book go to Amaze to help us support families with disabled children across Sussex.
How to get a copy of Colour Matching is Catching
In person: We will be selling the book at the Community Base Xmas Fair, open to the public on Friday 6 December from 11.30am-3.30pm so please come and have a look. Or you can pop in and get one from Amaze, Community Base, 113 Queens Rd, Brighton BN1 3XG, during office hours.
(Renowned children's author and our patron, Julia Donaldson, will also be at the Xmas Fair, signing and selling books in aid of Amaze.)
By post: Pay via BACS, include 'BOOK and surname' in the ref to Amaze account number 00006583, sort code: 40-52-40. Add £1.50 for postage please. After you have made payment email nickyb@amazesussex.org.uk with your full name and address and she'll post you a copy.
Collect in Hanover: Visit stockist Guyatri News 46 Southover St, Hanover, Brighton BN2 9UE.
If none of these work for you, please email nickyb@amazesussex.org.uk and she'll work out how to get a copy to you.
More about Colour Matching is Catching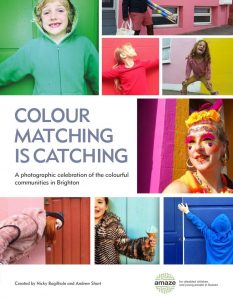 Read more about how the book came about: https://amazesussex.org.uk/amaze_news/colour-matching-is-catching-new-coffee-table-book-in-aid-of-amaze/
And if you love the book, please spread the word on social media:
instagram.com/colourmatchingiscatching
#colourmatchingiscatching