'Colour Matching is Catching' – new coffee table book in aid of Amaze
'Colour Matching is Catching' is a bright and beautiful coffee table book that celebrates Brighton's colourful quirkiness, in aid of Amaze.
Available now, 'Colour Matching is Catching' is stuffed with brilliantly witty pictures of local residents colour-matched to their home, their cars and each other. All proceeds from the sale of the book go to Amaze to help us support families with disabled children in Brighton & Hove and Sussex.
The book is the brainchild of Amaze fundraiser, Nicky Bagilhole and her friend Andrew Short, and follows on from their two successful Colour Matching calendars, which already raised over £8k for Amaze.
Nicky Bagilhole says:
"This book is in honour of Brighton, a very colourful place to live. The pictures are by residents and are a celebration of our community; the people, the houses and of course the matching cars. The colour matching concept immediately caught the imagination of the creative people on the hill via the Hanover Community Notice board on Facebook. We have brought the pictures together to brighten up your day and to raise money to support disabled children, so please buy your copy now, Thank you."
The Colour Matching fun began five years ago, when Nicky was on her way to work at Amaze. As she walked past the rainbow of Hanover homes she spotted a cheery image of a yellow mini outside a matching house which reminded her of the Mr Men, so she shared the photo on the Hanover
Community Noticeboard Facebook group (now over 17,000 locals). She didn't know it at the time, but Nicky had kicked off a colour matching game and over the following months friends, neighbours and the wider community shared their own snaps of matching cars and houses.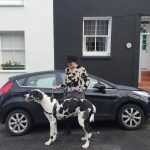 The stakes were upped when Nicky met Augustus, the famous Hanover Harlequin Great Dane with his owners Chris and Christina. To their amusement, Nicky's spotty jacket was just like Augustus' coat, so the pair posed for a photo next to a black car, outside a black and white house. Nicky posted the new picture on Facebook with a challenge to the 'creatives on the hill' to find a better match. She was amazed by the response, as this photo sparked a torrent of quirky and imaginative snaps, each more creative than the last.
Friends Nicky and Andrew (who is European Creative Director for a global healthcare advertising agency), who both live in Hanover, decided to create a calendar of the images to raise funds for Amaze and over the last two years have raised £8k through sales. Buoyed by this success they have joined forces once again, giving all their time for free to publish this collection of their favourite quirky colour matches. Many Amaze families live in the communities featured in this book. So what better way to celebrate the photographs than to publish them in a collection to be enjoyed whilst raising funds to give back to the community?
Book orders
The first 500 limited edition books are now available to buy by contacting Nicky Bagilhole at nickyb@amazesussex.org.uk or 01273 234014.
Or visit stockist: Guyatri News, 46 Southover St, Hanover, Brighton BN2 9UE. The book is hard backed, 230 by 180mm, has 60 colourful pages and costs just £12.99. 100% of profits go to Amaze.
#colourmatchingiscatching
Join in the fun by using the hashtag #colourmatchingiscatching and tagging our page in their posts.
Instagram: instagram.com/colourmatchingiscatching
Facebook: facebook.com/colourmatchingiscatching
To make a donation, please go to: justgiving.com/amaze/donate